We believe that every cafe should have their own mobile app
Having a mobile app for your cafe customers can really get you set to remain strong in the present and future. Customers rely on their mobile phones for so much of their daily activities and this of course includes managing their coffee and food ordering.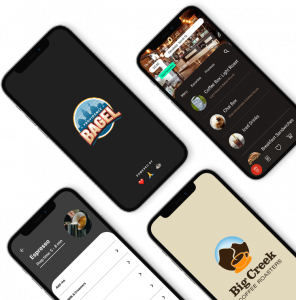 The big corporate chains invested in mobile app ordering years ago and we have all seen them increasing their commitment to their mobile apps.
Relying on marketplace style apps as the answer for mobile ordering was sort of a 2018-2020 strategy. It perhaps was "perfect" at the time…and it helped to shine a lot on customer habits. Customers truly did and do want to order from your cafe via simple pay in advance order ahead apps.
As tech has advanced, so has the ability to create high quality mobile apps for individual brands.
It is not possible for a team of technology folks to reliably produce apps for many brands. These apps can live in the AppStore entirely independent of each other, entirely for the brand that has its' name on it. It works. It really does.
Industry leading point of sale companies saw the writing on the wall as well. Companies like Square have been advancing their external integration tools so companies that make products across the entire ecosystem can connect with and integrate with their operational systems.
The end result is individual apps that stand alone from each other, with entirely custom branding and messaging, that are tightly connected and integrated with critical operational systems….that work….Customers get what they expect and need to have peace as they order. The shop gets what they need – which is to market themselves and not 3rd party tech platforms. Workers at the cafe get what they need in terms of clarity of orders, efficiency of where the orders appear in store, and more income via increased tips driven through logical mobile app checkout flow.
It works. It really does. The answer for all cafes is exactly the same as it was when deciding to hang their own shingle. Starting a business means you take on tons of risk and you work tirelessly to build a brand. It certainly does not stop at mobile ordering. Mobile ordering is just part of the brand story. Having the brand story is not a matter of luxury, as we know. It is critical. It is do or die in terms of business and competing with the large corporates and other brands that might be around the corner.
Having your own app will revolutionize your mission. We truly believe this and have heard this from happy merchants that we have worked with to assist in having their own app.
Reach out to learn more. We are here to help. Go coffee.
We truly appreciate the opportunity to be on this mission with those that have a passion for coffee.