Square is your POS at your cafe. Great decision. This article is for those that have already decided to use Square and have transactions occurring in their Square account.
Starbucks has an app. Their app drives a lot of business and keeps customers coming back.
Your cafe app can do the same. 
If you have multiple locations, make sure your app can support the idea that each location could have a different menu. Some items or some modifiers can't be stocked in all stores. Items run out throughout the day. It is important to be able to mark items as unavailable, whether it be for the remainder of the day, until turned back on, or permanently.
A mobile app experience is an extension of your store operational habits, but it is not exactly the same. For instance, you might want to close mobile ordering 5 minutes prior to in store closing hours. A 10 drink mobile order coming in 5 seconds before closing can certainly be an issue for staff and customers.
There are messages you want to show customers for instructing them on how to pickup their items, whether it is a curbside, counter, or drive thru order. Your app should allow setting these so they show.
In terms of curbside, why not let a customer indicate the vehicle they are going to be arriving in…then give them a chance to confirm or edit that vehicle on arrival. A customer would click "I'm Here" in the app when arriving and this can send a message to your Square terminal so staff knows the customer is there and which vehicle they are in.
One thing that Starbucks has is an in app digital wallet. Digital wallets have become sort of the expected experience with the large corporate chains. You too can have a digital wallet in your app. With a single "points" bucket, you can give customers a Welcome Bonus upon signing up, you can reward them with points as they checkout in your app (2%, 5%, etc), and you can offer an opportunity to deposit $5, $10, $20, etc into their digital wallet. The nice thing with that is the obvious impact seen through multiple orders being placed with the funds, but also, you can save a good amount on processing. If Square charges you 2.6% plus 10 cents per transaction, you can now incentivize customers to deposit $20. This $20 could be enough money to place 4 orders. Rather than 4 transaction fees, now you pay only 1 in this scenario. 
There are an almost endless number of things know. The point of it all is that a mobile app for your cafe can really help drive sales and retain customers. Starbucks and the other large chains are becoming tech companies in many ways.  Your cafe business can have a quality app for customers to use when they order.
Espressly specializes in building apps for cafes and has worked to make the most complete integration with Square as is possible, per what Square makes available to developers. 
There is no setup fee and with a simple 4% commission model (or pay $149 per location*), you can get started without much effort. 
Fill out the CONTACT form or setup a call to learn more.
*fixed monthly amount requires an 18 month commitment
Battling menu decay
What is menu decay?
You thought managing some basic content and images on a website was bad. It is all too common to see a website of some local business that has images that are clearly very outdated.
Many people that has a cafe or restaurant that offer online ordering can find that things are nice and tidy when they start with a given provider of online ordering. The settings, the hours, the menu item, the modifiers – they all look so great at the start. Then, over time, the menu offered in store or in the POS changes. Prices change. Items change. You name it. It changes. The one known is that there is going to be change. At first, emailing a new menu or emailing to get changes done seems OK. As changes are not properly communicated to the online ordering system, confidence in the system starts to erode. Customers place orders and there are errors. This causes friction for them and for your shop. The problem is that it is really challenging to manage a menu in more than one location. The POS typically has the perfect menu as this drives in store orders. The prices, the addons, etc…they are all correct. They match the menu boards and printed menus. They have to….the effort that goes into making sure they are perfect is worth it. There is no other option when it comes to the POS.
Participating on 3rd party ordering platforms can seem great at first, and it certainly can be forever….but what if the menu isn't perfect? From experience, we see that many times that errors are sort of "allowed" because "the online ordering platform drives customers to us". Folks get sold on the idea that it is a necessary problem. There is no way around it. 
Accepting menu decay for reason x, y, or z leads to decay and friction in your business. It makes every party involved less excited to come to work or to order from your shop. The online ordering partners ultimately get you to accept it and you deal with carrying the burden – customers are going to have issues and you bear the brunt of it of course, unfortunately. 
What if the menu decay that is eroding business was replaced with a shining beacon of efficiency and accuracy? That would lead to lower blood pressure and increased peace for all – maybe.
To achieve this peace, there are some basic requirements.
Only manage the menu in ONE location and have that system talk to your online ordering or mobile app solution. The systems must talk and remain in sync. They have to. Computers are built to handle this type of data management.

Getting new customers in the door cannot supercede the importance of efficiency and accuracy – this is what leads to satisfaction and to repeat loyal diners and customers.

Challenge your online ordering and mobile app partners. It is your business after all. Any vendor that works with you and your business should consider themselves fortunate to have an opportunity to interface with your customers. You worked too hard to let them down.

Insist on excellence

Accept nothing less

If you cannot achieve efficiency and order as online orders flow, why have it?
Now we can switch topics to software providers that are able to deliver this level of peacefulness to your business (regardless of "price" – although important, it is another topic to consider that once again cannot replace the importance of having systems that "work")
There are 3rd party online ordering partners….but they are not your in store POS. 
There are 3rd party online ordering partners that have some basic integration with various POS. Not all "integrations" are created equal. It is not IF they integrate. It is IF the solution allows for managing everything in one location. If you or someone at your company or at the 3rd part ordering company need to do redundant work, menu decay will occur. Humans are humans. It is OK. Mistakes happen. People miss things….this does not change the golden rule: Your menu in your ordering solution must be 100% accurate, all the time.
What it would take is a POS company that has next level engineering infrastructure that would allow the company that exclusively works on web or mobile app ordering to interface with the POS company to deliver a truly connected, end to end synced product. The two function as one solution. Make changes in the POS and the changes are applied instantly to the mobile app or website. Changes must occur for categories, items, variations/sizes, modifier sets, modifiers, hours of operations, open/close status for the week, open/closed status for emergencies that result in needing to turn off ordering, image syncing, description syncing, payment processing using one unified solution, reporting in the POS panel for all orders, refund capabilities, etc. Everything needs to be done from the POS.
If this could be done….then there is a basis for which you can confidently rule out the "menu decay" issue. Customers can get your most current items, prices, modifiers, etc, etc, etc. 
From there, the orders placed with this accurate system must of course flow directly into the standard POS terminal for which workers interact with in store. One terminal to handle it all. That way nothing is ever missed and there are no curve balls for the store staff.
Square has this. They have all the tools needed to power such a product. They power it. You power it.
We saw this capability. We see how great Square is as a POS option for cafes, bakeries, donut shops, and specialty shake shops. Square deserves a lot of credit. Shops that have selected Square deserve a ton of credit. These same shops deserve such a solution – one that eliminates "menu decay"…..one that powers peacefulness and efficiency. One that helps retain workers. One that helps them make more and one that helps a shop to be profitable and remain profitable, with order and predictability.
The work carries on. We are pleased to see what Square continues to offer and support and advance. 
Also, the mobile app we could make for you only has your brand. It is your app. It is what customers think is a great way to place their daily coffee orders. There is also a reward program to keep them coming back, and yes, that is synced with Square as well. Of course. It has to be.
We do not charge a setup fee.
You connect your Square account with a single click. Easy.
We help with all settings and explaining how to get maximum efficiency and use out of your app and Square instance.
4% commission. No other fees. Cancel anytime. Simple.
Contact us at info@espressly.co to get a demo of the system described above. We are here to help.
With Instagram being one of the most reliable channels to reach existing and would be cafe customers, it is no wonder that we see so many beautiful images of lattes, iced coffees, pastries, and the like. 8 out of 10 Americans consume coffee in some manner and to so many of us, a good coffee can really represent a moment of peace and sanity. We love it. We love great cafes and all the wonderful people that dedicate themselves to getting the job done at these cafes.
In an effort to help connect the Instagram users that see posts that cafe owners publish, we want to point out how using promo codes in Square in conjunction with those same Instagram posts, can drive sales to your business.
Simply login to your Square POS portal at squareup.com. Once signed in, visit the following URL –
https://squareup.com/help/us/en/article/6880-create-a-coupon-in-square-online-store
That Square page details the steps for creating a promo code in your Square account.
We have pasted some of the content from that page below:
Start Creating a Coupon
To create a coupon in Square Online:
In your Square Online Overview page , go to Items > Coupons or Shared Settings > Coupons.
Select Add Coupon.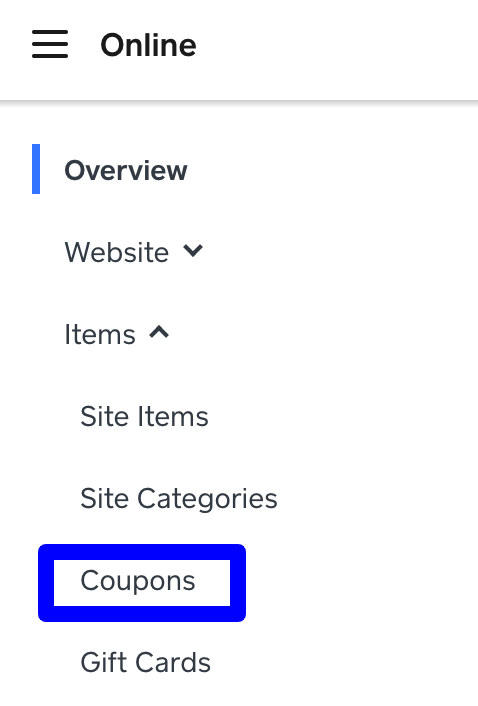 You can then proceed to creating your coupon code. Name it whatever you want of course. You can set the expiration and you can decide on redeeming it as a percentage discount or a fixed dollar discount. There is also a setting where you can allow it to be used on any order or you can select specific items for where it can be applied. Square, like always, has done an amazing job with building out the tools that are needed to excite customers of your business.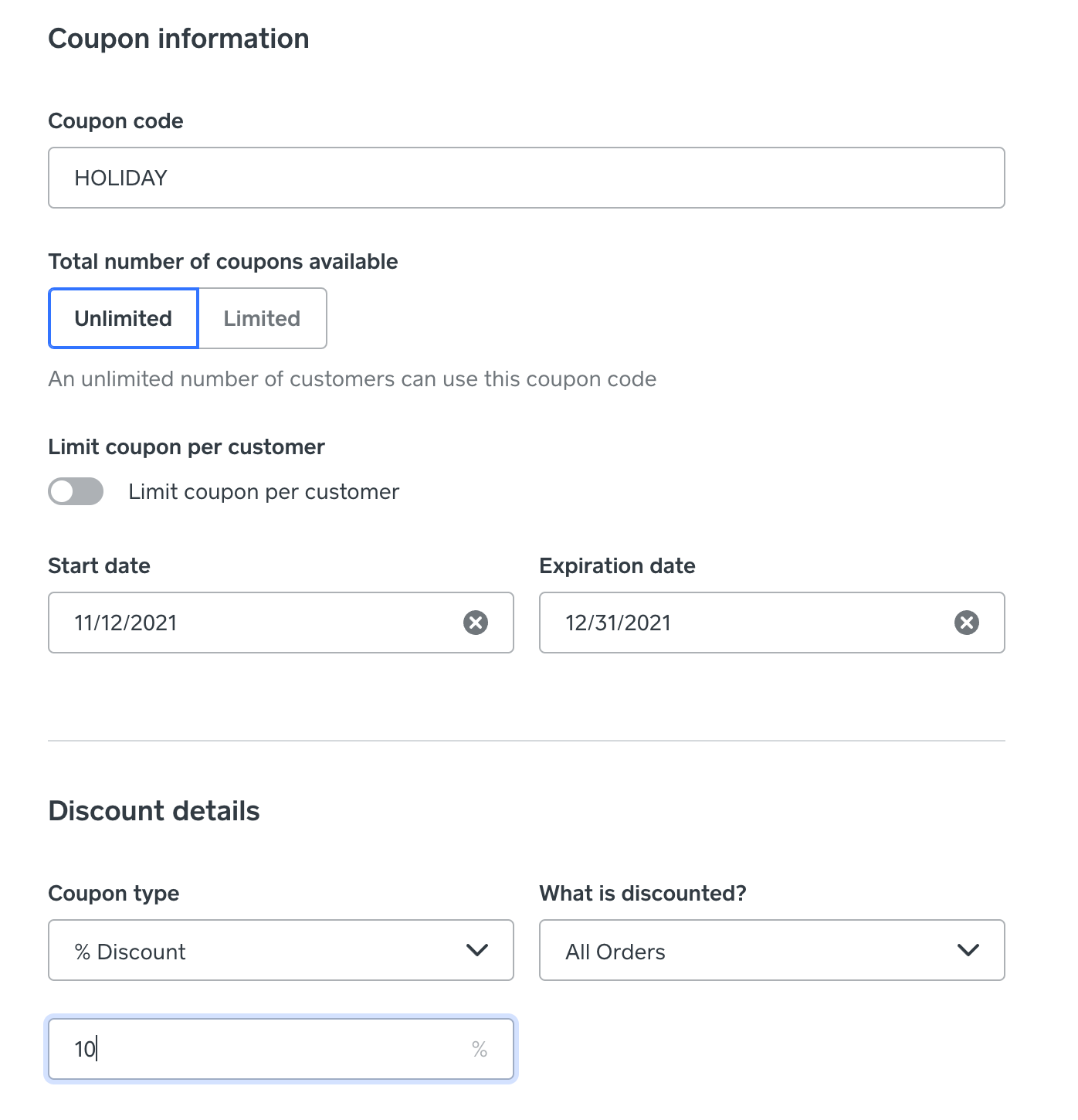 Create as many coupon codes as you would like. Note that you can even create one time use codes for customer service issues. Once that single person uses that single code, it cannot be used again. These can be handy tools when it comes to keeping the customer journey and experience in line with what is needed in a business. We all love to be taken care of of course with a special discount. Allowing buyers to redeem it in your app is a nice touch.
Once the coupon code is created, share it wherever you want.
In regard to Instagram, we recommend using an app called Text Art. This app will let you start with a solid color canvas or you can upload an image of coffee or whatever. After uploading you can easily insert a layer on the image and you can type your message (including the promo code of course AND the link or steps for how to download your mobile app).
Include some basic text about the promotion details in the image caption and publish.  Something as simple as "Search for the XYZ Cafe app in the AppStore and on Google Play. Use our app to order ahead and save on your next visit."
If you are really feeling wild, take some time to get familiar with the advanced targeting that is available in the Facebook Ads Manager. From there, you can decide on a budget and get your ad seen on Instagram and Facebook by the precise groups of people that can ultimately convert to sales in your cafe.  We can give you statistics for app downloads at any time as well.
One big loop of wonderful coffee products, satisfied employees and baristas, marketing where your ideal customers are, a modern app for your business, and savings to be had at the same time. When orders are placed, it can flow right into your Square POS. Rinse and repeat. That way, you can focus on all the other stuff you have going on in your world.
Here is an order in Square showing a promo code as being redeemed (code is Test1). The customer also used Loyalty points ($1.00) and paid the remainder on credit card.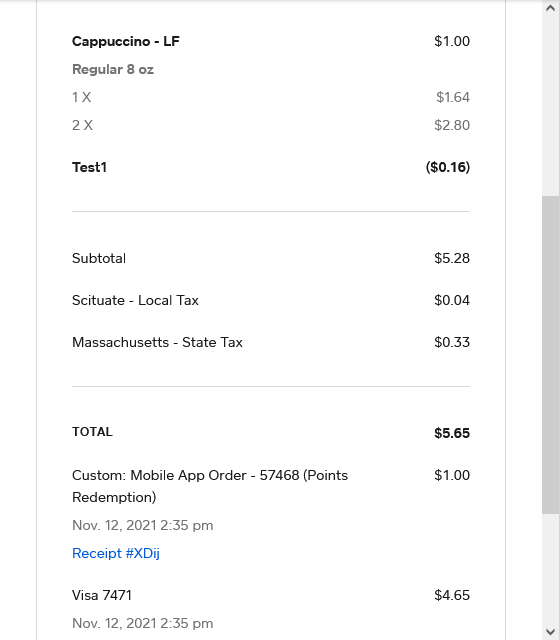 We are here to help. Contact us by completing the contact form HERE at any point if you would like to learn more. Your app awaits. ❤️ 😇 ☕️